Gus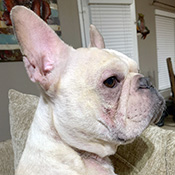 Date posted: 3/3/19
Location: TX
Please welcome Gus! He's the latest dreamy addition to the FBRN family. Gus is 2-years-old and cute as a button! His previous owner got him as a puppy and the decision to surrender him was very hard. Gus's previous owner tried different vets and all sorts of over the counter medications to help manage Gus's allergies, but to no avail. Gus is still just an itchy little guy! We're happy to be chosen and trusted to help Gus get the help he needs.

Gus is enjoying all the love and attention in his foster home. He hasn't had his initial vet visit yet, but we'll know more about his overall health after that. He seems like a heathy and happy (albeit itchy) little guy! It is obvious that he has allergies and testing will be needed to determine the right treatment plan. We're confident we can get Gus's allergies under control and have his skin and coat looking great again! Gus hasn't yet been altered and once he's cleared for surgery, he will be neutered.

We'll have more to report when Gus is ready to move along to the available page. For now, he's settling into his foster home and getting used to a new routine. Perhaps you'd like to send Gus some words of encouragement, or even a toy to keep his mind off his itchies! Gus could also use a few coins in his piggy bank to cover upcoming vet expenses. If you can spare anything, it would help greatly, and Gus will certainly appreciate your kindness! If you'd like to become his sponsor, just click on the banner above.
Sponsors
Sheila Kleemeier
Gerald Boothe